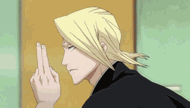 Hadou 31 Shakkakou(赤火砲, Kırmızı Ateş Topu)
Tanımlama :
Shakkakou öncelikle saldırı amaçlı kullanılır.Kullanıcı avucunun içinde kırmızı bir küre oluşturur ve koyu kırmızı bir enerji üretir.Kullanan kişinin gücüne göre büyüklüğü değişir.Orta düzey bir hadou büyüsüdür.
Kullanıcılar :
Rukia Kuchiki
Izuru Kiba
Renji Abarai
Momo Hinamori
Kageroza İnaba
Rangiku Matsumoto
Toushiro Hitsugaya
İsane Kotetsu
Yumichika Ayasegawa
Jushirou Ukitake
Nanou İse
Matsuri Kudou
Ad blocker interference detected!
Wikia is a free-to-use site that makes money from advertising. We have a modified experience for viewers using ad blockers

Wikia is not accessible if you've made further modifications. Remove the custom ad blocker rule(s) and the page will load as expected.